Manduna is located in Rote Island, West Timor, Indonesia. It's the Southernmost Indonesian territory only 500km from Australia.You need to fly into Kupang the capital of West Timor to El Tari Airport [RTI] and there are flights from Bali/Jakarta/Surabaya/Lombok.From Bali, for example, you depart at noon and then at 5 pm you are at Manduna to enjoy the sunset from the comfort of your room. There are 2 ways to get to Manduna:
Option 1 – By Plane all the way
Kupang the Capital of West Timor is where you need to go. There are flights from Bali, Lombok, Jakarta & Surabaya into Kupang Airport called El Tari International Airport. [KOE]
Then you take a 20mins flight to Rote Island Airport [RTI] where our team will be waiting for you. Please note that airlines do charge for surfboards and there may be limitations on surf bag sizes. Contact us and we will assist you with all that. If the equipment cannot fit in the airplane, we will bring it by ferry [extra charges apply]
Option 2 – Combo Plane and Fast Ferry
Fly into Kupang and then get the Fast Ferry [Bahari Express] to Rote that takes around 1.30-2.00hs. They operate depending on good sea and wind conditions being, therefore, less reliable than taking the short flight between Kupang and Rote.
We will help you find out what is the best alternative depending on your flights and preferences.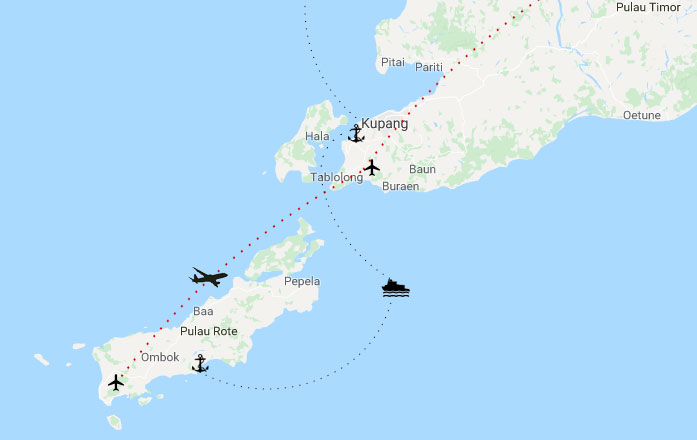 Time Table Bahari express (fast ferry)
Kupang to Rote
Monday: 8:30 and 14:00
Tuesday: 11:00
Wednesday: 11:00
Thursday: 8:30 and 14:00
Friday: 8:30 and 14:00
Saturday: 8:30 and 14:00
Sunday : 9:30 and 14:00
Rote to Kupang
Monday: 8:30 and 14:00
Tuesday: 11:00
Wednesday: 11:00
Thursday: 8:30 and 14:00
Friday: 8:30 and 14:00
Saturday: 8:30 and 14:00
Sunday : 9:30 and 14:00